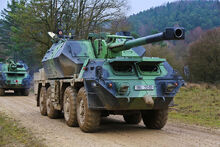 The DANA (the name being derived from Dělo Automobilní Nabíjené Automaticky (self-propelled auto-loading gun)) is a wheeled self-propelled artillery piece. It is also known as the Samohybná Kanónová Húfnica vzor 77 (ShKH vz. 77) (self-propelled gun howitzer model 77); and was designed by Konštrukta Trenčín and built by ZTS Dubnica nad Váhom in the former Czechoslovakia (now Slovakia). Introduced in the 1970s it was the first wheeled 152 mm self-propelled artillery gun to enter service. It is based on a modified 8x8 Tatra 813 chassis with excellent cross-country mobility. Currently it is in service with the Axis of Empires and the Coalition of Independent States.
Wheeled vehicles have the advantage of being cheaper to build and easier to maintain with greater mobility. Tire pressure can be regulated to allow good mobility off-road and there is power-assisted steering on the front four wheels. It lowers 3 hydraulic stabilizers into the ground prior to firing, and has a roof mounted crane to assist with ammunition loading.
Community content is available under
CC-BY-SA
unless otherwise noted.