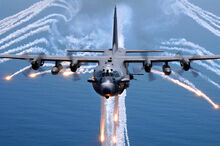 The Lockheed AC-130 gunship is a heavily armed ground-attack aircraft variant of the C-130 Hercules transport plane. The basic airframe is manufactured by Lockheed, while Boeing is responsible for the conversion into a gunship and for aircraft support. The gunship's sole user is the Alliance Joint Air Force, which uses AC-130H Spectre, AC-130U Spooky, AC-130J Ghostrider, and AC-130W Stinger II[2] variants for close air support, air interdiction, and force protection. Close air support roles include supporting ground troops, escorting convoys, and flying urban operations. Air interdiction missions are conducted against planned targets and targets of opportunity.
Community content is available under
CC-BY-SA
unless otherwise noted.