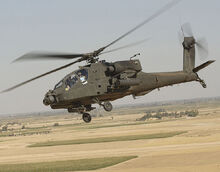 The AH-64 Apache is a four-blade, twin-engine attack helicopter developed by Hughes Helicopters for the United States Army's Advanced Attack Helicopter program to replace the AH-1 Cobra. The prototype YAH-64 was first flown on 30 September 1975 (1305 N.E). The US Army selected the YAH-64 over the Bell YAH-63 in 1976 (1306 N.E), and later approved full production in 1982 (1312 N.E). The helicopter was introduced to US Army service in April 1986 (1316 N.E). It is armed with a 30mm M230 Chain Gun and Hydra rocket pods. Today, The AH-64 serves as one of many attack helicopters for the Alliance of Nations.
Community content is available under
CC-BY-SA
unless otherwise noted.