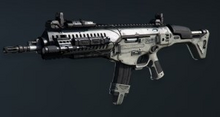 The ARX-160 is a modular assault rifle manufactured by Pietro Beretta S.p.A.. Developed for the Italian armed forces as part of the Soldato Futuro ("Future Soldier" in English) program, the ARX-160 was launched in 2008 as a commercial weapon system independent from the Soldato Futuro ensemble, complete with a companion single-shot 40mm NATO low-velocity grenade launcher, called GLX-160, which can be underslung to the rifle or used with an ad-hoc stock system as a stand-alone weapon. The ARX-160 departs from the previously issued Beretta 70/90 weapon system on several points. The weapon is composed of upper and lower receiver, both manufactured mostly in polymer, and operates through a short-stroke piston system. Feeding is through STANAG magazines. The weapon's unique features include ambidextrous safeties, magazine catches and charging handle, the ability to change which side spent casings are ejected, a quick-change barrel which can be removed and replaced in seconds without tools, picatinny rails, and a foldable telescopic stock. It serves as one of many primary weapons for the Alliance of Nations against the Axis of Empires. There is a Space-variant of the ARX-160, which is used by the Alliance of Nations Space Forces, The only difference is the cartridges expelled are black with 'CO2' printed on them. This means they are filled with a pressurized gas, which allows it to be fired in the vacuum of space.
=== Alliance of Nations ===
Community content is available under
CC-BY-SA
unless otherwise noted.