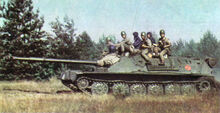 The ASU-85 (Russian: Авиадесантная самоходная установка, АСУ-85, Aviadesantnaya Samokhodnaya Ustanovka, 'airborne self-propelled mount') is a soviet-designed airborne self-propelled gun of the Cold War Era. From 1959, it began to replace the open-topped ASU-57 in service. It was, in turn, replaced by the BMD-1 beginning in 1969. It was used by the Coalition of Independent States
The SU-85/ASU-85 is based on the PT-76 tank chassis, but without the amphibious capabilities and fitted with a new engine. The vehicle has three compartments: the driver's in front, the combat compartment in the center, and the engine compartment at the rear.
The armament consists of a D-70 (2A15) 85mm gun, derived from F.F. Petrov's D-48. The L/67 ordnance has a total weight of 1,865 kg and an elevation range from -4.50° to +15°. Traverse is 15° either side. The D-70 fires the same ammunition as the D-48 (3BK-7 HEAT, BR-372 HVAP-T and OF-372 HE), the combat load is 45 rounds. The gun has an effective range of 1,150 m and a maximum range of 10 km. The coaxial machine gun is either the SGMT or the PKT with a combat load of 2,000 rounds.
Both the main gun and the coaxial machine gun are aimed by means of the TShK-2-79 sight. For nighttime fire, the TPN1-79-11 sight is used in combination with the L-2 IR searchlight. Indirect fire is conducted with the help of the S-71-79 and PG-1 sights. Furthermore, the commander is provided with two observation devices; TNPK-20 (day) and TKN-1T (night).
Community content is available under
CC-BY-SA
unless otherwise noted.