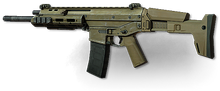 The Adaptive Combat Rifle (ACR) is an assault rifle platform designed by Magpul Industries of Erie, Colorado. Bushmaster Firearms, with the help of Remington Arms, made extensive design changes based on intensive environmental and functional testing specifically to meet the emerging requirements of the Allied military in both the carbine and subcompact weapon versions of the ACR family. It was made to endure certain conditions such as exposure to sand, dirt, mud, and water. The ACR has barrel length options of 10.5″, 14.5″, 16.5", and 18″. Barrels are hammer-forged and hardened with a nitriting process rather than having chrome plated bores as some other rifles. Among options for the ACR are various stocks including a fixed adjustable (in terms of length of pull and cheek weld), folding adjustable (folding and six-position telescoping), and sniper stock based on the Magpul PRS stock. The Bushmaster model's handguard is polymer with heat guards and attachable aluminum trirails, while the Remington model has a five sided aluminum handguard that can be user configured with MIL-STD-1913 rail elements.[4][17] The magazine conceived for the 5.56mm version of the ACR rifle is called the Magpul PMag, a high-impact, 30-round polymer magazine claimed by Magpul to be significantly more resistant to wear, shock, and harsh environments than other counterparts on the market. The PMag is STANAG 4179-compatible, as it will readily fit any STANAG magazine firearm, including the M16 rifle family.[11] The ACR is currently used by the Alliance Joint Military Special Ops forces.
Community content is available under
CC-BY-SA
unless otherwise noted.