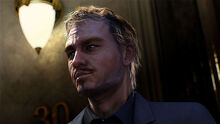 "a Hero to a monster... Lord, how the great have fallen..."
-Alexi Scott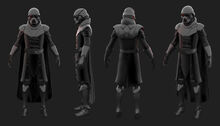 Akio Yujo, later known as High Lord Aeon Thanotos, was the grandson of Sora and Kairi Yujo and the Son of Christopher and Destiny Yujo, the man is considered a fallen hero due to his actions in creating the TransRace Empire and his alligence with the Cruel Lord. Much like Darth Vader, Akio was forced into a body covering life support system as a result of his duel with Alexi Scott and Ventus on De'ijkki Earth where he remained entombed til the day he died near the end of the Third Multiverse War, not without aiding in the yet another death of his former master/lord, the Cruel Lord.
Biography
Edit
Profession
Edit
Personality
Edit
Family and Relatives
Edit
Community content is available under
CC-BY-SA
unless otherwise noted.