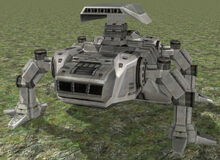 The All Terrain Anti-Aircraft (AT-AA) was a quick-moving, quadrupedal, mobile anti-aircraft walker used by the Axis of Empires. The AT-AA had four stubby legs and lizard-like locomotion, along with a low profile not seen in other Imperial walkers. On most models, the only weapon was a turreted flak pod, capable of firing several types of ordnance.[3] Other versions could be equipped with one or three rocket-launching tubes.[2] Initially the AT-AA had an inability to fire at ground targets. This was partially rectified with the addition of gun ports to allow the crew to fend off infantry attacks.
Community content is available under
CC-BY-SA
unless otherwise noted.