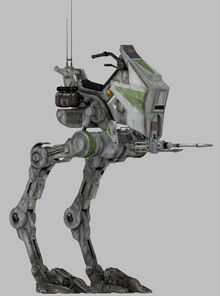 The All Terrain Recon Transport (AT-RT) was a one-man bipedal walker used for reconnaissance and patrolling. It is used by the Alliance of Nations and the Axis of Empires. One of several precursors to the AT-ST walker, the AT-RT was 3.2 meters tall and 2.9 meters long, with a saddle-like seat for a single clone trooper driver. Its open cockpit design made the driver especially vulnerable to sniper fire, a notable flaw, but low costs and good visibility of the battlefield made up for this shortcoming. While other walkers like the AT-PT eliminated the flaw of the exposed driver position, the AT-PT was slower, and this made the AT-RT competitive with the former as it was capable of tremendous speeds and could also leap quite a distance thanks to its light construction .
Community content is available under
CC-BY-SA
unless otherwise noted.