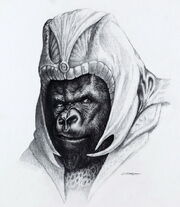 Andressler Aurdenor is the head of the Semerian Ministry of Faith within the Semerian Commonwealth and a member of Garrundei Cezar's inner circle. He was recruited by the new regime during its early years in order to inspect members of the Commonwealth's native religion and weed out the heretic, the corrupt, and the useless, thus forcing them into submitting to the every whim of the state. He is also responsible for using his preaching techniques as a tool to fuel up military morale.
Community content is available under
CC-BY-SA
unless otherwise noted.