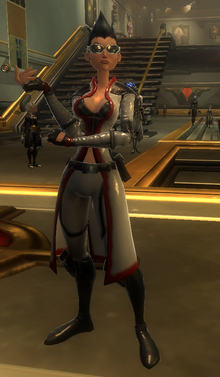 Lady Artemis Zin is the Fighter Pilot for the Axis Joint Air Force, hosting a high-impact reality show featuring her daredevil adventures all over the Multiverse and the poster girl for the entire Axis Air Force. Her fandom basically consists of the entire empire, with only very, very few exceptions. She is said to be a descendant of the Emperor himself. Artemis Zin is a daredevil, extremely self-centered and arrogant, most of her decisions based entirely on her needs and wants. She happily ignores advice and warnings if it gets in the way of something she wants to do, though she does remain consistently polite and kind to the people she interacts with. She eventually become the head of the Dominion Pact, the remnant of the Dominion, during the Remnant Wars.
Biography
Edit
Profession
Edit
Personality
Edit
Family and Relatives
Edit
Close Friends
Edit
Community content is available under
CC-BY-SA
unless otherwise noted.