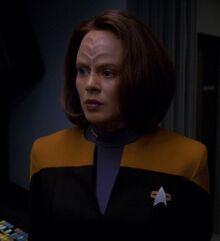 B'Elanna Torres was a Klingon-Human hybrid and former Maquis who served as Chief Engineer on the Allied starship USS Voyager under Captain Kathryn Janeway. In the first war, while the Alliance was trying to capture the Maquis raider Val Jean in the Badlands, she and the rest of her Maquis crew were pulled 70,000 light years across the Duyi'zu galaxy and headed to Filo Galaxy, deep into the Delta Quadrant by the Caretaker's array and forced to merge with the crew of the Voyager during its seven-year journey home. Before serving as a chief engineer, B'Elanna had joined the Maquis right after dropping out of the Academy after years of disciplinary issues.
Biography
Edit
Personality
Edit
Profession
Edit
Close Friends
Edit
Family and Relatives
Edit
Community content is available under
CC-BY-SA
unless otherwise noted.