Tags: apiedit, Visual edit

Line 1:
Line 1:
 

[[File:BARC profile.jpg|thumb|220x220px]]

 

[[File:BARC profile.jpg|thumb|220x220px]]

−

The '''Biker Advanced Recon Commando (BARC) speeder''' was a powerful speeder bike model used by the Alliance as a reconnaissance craft during the First War. Younger than the 74-Z speeder bike employed at the Second Battle of Dorin, it was actually more closely designed after the Ripper speeder bike manufactured by Aratech's competitor, Mobquet. It was manufactured by Aratech Repulsor Company. A civilian variant, Police BARC speeder also saw extensive use on city planets.

+

The '''Biker Advanced Recon Commando (BARC) speeder''' was a powerful speeder bike model used by the Alliance as a reconnaissance craft during the First War. It was manufactured by Aratech Repulsor Company. A civilian variant, Police BARC speeder also saw extensive use on city planets.

 
+
−

[[Category:Vehicles]]

 
 
+

Younger than the 74-Z speeder bike employed at the Second Battle of Dorin, it was actually more closely designed after the Ripper speeder bike manufactured by Aratech's competitor, Mobquet.

−

[[Category:Allies]]

 
 
+
−

[[Category:Allied Vehicles]]

 
 
+

Originally designed for exclusive use by the Advanced Recon Commandos, the vehicle proved so effective that it came to be used by the rest of the army.<sup>[2]</sup> These speeders were painted in the blue-and-white colors of the Alliance.

 
+
 
+

They were powered by repulsors and a turbine engine mounted on the frontal prong. The speeder was controlled via twin steering vanes atop the bike, and pedals fitted below. Two blaster cannons protruded from the bottom of the forward prong, while two more were fixed on either side of the vehicle's rear.[[Category:Vehicles]][[Category:Allies]][[Category:Allied Vehicles]]
---
Revision as of 04:32, 4 March 2015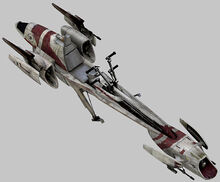 The Biker Advanced Recon Commando (BARC) speeder was a powerful speeder bike model used by the Alliance as a reconnaissance craft during the First War. It was manufactured by Aratech Repulsor Company. A civilian variant, Police BARC speeder also saw extensive use on city planets.
Younger than the 74-Z speeder bike employed at the Second Battle of Dorin, it was actually more closely designed after the Ripper speeder bike manufactured by Aratech's competitor, Mobquet.
Originally designed for exclusive use by the Advanced Recon Commandos, the vehicle proved so effective that it came to be used by the rest of the army.[2] These speeders were painted in the blue-and-white colors of the Alliance.
They were powered by repulsors and a turbine engine mounted on the frontal prong. The speeder was controlled via twin steering vanes atop the bike, and pedals fitted below. Two blaster cannons protruded from the bottom of the forward prong, while two more were fixed on either side of the vehicle's rear.
Community content is available under
CC-BY-SA
unless otherwise noted.