For the brute wyvern that shared the name, see Uragaan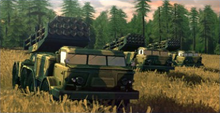 The BM-27 Uragan (Russian: Ураган, 'hurricane'; GRAU index 9P140) is a self-propelled multiple rocket launcher system designed in the Soviet Union. It began its service with the Soviet Army in the late 1970s, as its first modern spin and fin stabilized heavy multiple rocket launcher. The BM-27 Uragan is capable of launching 220 mm rockets from 16 launch tubes mounted on the rear of a ZIL-135 8x8 chassis. This vehicle is extremely similar to that used in the FROG-7 free flight rocket system. It has 2 gasoline engines that power its 20 tonnes to a maximum speed of 65 kilometers per hour. One engine drives the 4 wheels on the left of the truck while the other engine drives the 4 wheels on the right. The ZIL-135 has 8 wheel drive, but only the front and rear axles are used for steering. It has a maximum cruising range of 500 kilometers. It is used by the Axis of Empires and the Coalition of Independent States.
Community content is available under
CC-BY-SA
unless otherwise noted.