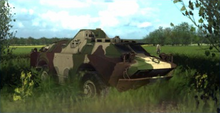 The BRDM-2 (Boyevaya Razvedyvatelnaya Dozornaya Mashina, Боевая Разведывательная Дозорная Машина, literally "Combat Reconnaissance/Patrol Vehicle"[4]) is an amphibious armoured patrol car used by Russia and the former Soviet Union. It was also known under the designations BTR-40PB, BTR-40P-2 and GAZ 41-08. This vehicle, like many other Soviet designs, has been used by the Axis of Empires and the Coalition of Independent States.
Community content is available under
CC-BY-SA
unless otherwise noted.