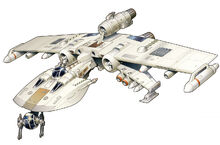 The BTL-S8 K-wing assault starfighter, commonly known as the K-wing, was a heavy starfighter/bomber adopted by the Alliance of Nations
Characteristics
Edit
The K-wing assault starfighter was produced by Koensayr Manufacturing, the same company responsible for producing the venerable Y-wing. Like many other starfighters, the K-wing was designed to excel in a specific primary role in combat while retaining the flexibility to serve secondary functions if needed.
The K-wing starfighter's primary missions included precision bombing of planetary targets, slow-moving capital ships, and spaceborne installations. It also performed secondary missions as an escort or reconnaissance ship.
The hull design of the K-wing consisted of two primary wings attached to a fixed stabilizer. The two main ion engines located at the junction between the wings and stabilizer allowed the K-wing to achieve a sublight speed similar to the Y-wing, despite its larger size.
Community content is available under
CC-BY-SA
unless otherwise noted.