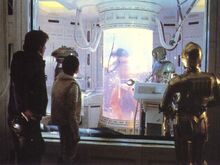 Bacta was a synthetic chemical substance that consisted of gelatinous, translucent red alazhi and kavam bacterial particles that were mixed within a colorless, viscous fluid known as ambori. When a patient was exposed to bacta, the bacterial particles within sought out wounds and promoted rapid tissue regeneration while preventing the emergence of scar tissue. Bacta was often thought of as a "miracle fluid", and seemed to be effective against almost every type of injury and ailment across an incredible cross-section of species throughout the galaxy. It was considered to be the best medicine available anywhere, replacing the previously-used kolto.
Community content is available under
CC-BY-SA
unless otherwise noted.