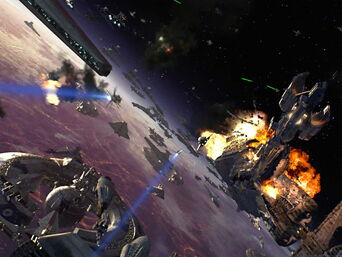 The Battle of Filo Coruscant in the Filo is a well-known battle in the First War, it quickly became a bloodied symbol of the War itself, during the battle, most the Senators on the Galactic Republic were killed and many civilians of the planet where also killed in the battle, so in order to bring as many citizens as possible from the war-torn world, the Alliance ordered an Eviction of the planet but it failed and only 3 Billion people where saved from the planet making it a failed mission to eviction in the Multiverse's history, right now it's divided between Axis and Alliance controlled Coruscant. It became a brutal trench warfare on this planet (which utterly destroyed the planet).
People Involved
Edit
Alliance of Nations
Edit
Axis of Empires
Edit
Quotes about the Battle
Edit
Alliance of Nations
Edit
Axis of Empires
Edit
Atrocities committed during the Battle (Notes)
Edit
on the Axis side of Coruscant, the Axis started to relocate any surviving civilians into Concentration Camps/Death Camps
many survivors who manage to escape these Death Camps, told stories of the combines randomly selecting five hundred and fifty prisoners and simply executing them where they then take the bodies to an unknown location. They also told stories of Chimeras killing and eating prisoners
much to the horror of the Clone Army, Jedi Order and Alliance Joint Military, the Combines and Chimeras started strapping bombs on Coruscanti children and send them to the Alliance's Front lines where they wait for the Allied soldiers to take them to the trenches then detonate the bombs on the children causing havoc and destruction on the Allied Trenches
Community content is available under
CC-BY-SA
unless otherwise noted.