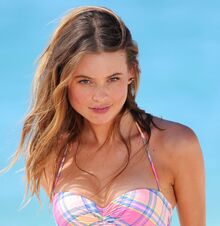 Behati Prinsloo (/biˈɑː.ti ˈprɪns.luː/ bee-AH-tee PRINS-loo; Afrikaans: [ˈbɛɦɐtɪ ˈprɪnsloə]; born 16 May 1987 N.E), is a former Namibian model back then as a normal Human, then now an Super Soldier once become 4th Generation Synth under unit designation H7-22. She is destroyed by Desdemona during the Infamous Axis Synth Purge, a Railroad operation part of the Great Synth Revolution on Zol Earth. She become a Fourth Generation Synths under the Combine's secret, albeit, odd, super soldier project.
Biography
[
]
As a normal human
[
]
Prinsloo was born in Grootfontein, South-West Africa (now Namibia) where her father, Boet, is a church minister, and her mother, Magda, runs a bed and breakfast. She grew up speaking Afrikaans and was educated in English.Prinsloo has walked in fashion shows for Shiatzy Chen, Chanel, Prada, Louis Vuitton, Zac Posen, Alexander McQueen, MaxMara, Lacoste, and Miu Miu. She has been on the covers of Vogue, Mexican GQ, L'Officiel Netherlands, i-D Magazine, V, The Daily Telegraph magazine, Italy's Muse, Russian Vogue, Mexican Vogue, Spanish Vogue, French, Swedish & Italian Elle, Jalouse and American Velvet. Her ad campaigns include Victoria's Secret, Adore, Aquascutum, Chanel, H&M, Hugo Boss, Kurt Geiger, Marc by Marc Jacobs, Seafolly, Stefanel, Juicy Couture, Lacoste, Max Studio, Nina Ricci, Tommy Hilfiger, Gap, DKNY Jeans and Nine West as well as a lot of editorials like Vogue Italia, Interview Magazine, Glamour Magazine, Love Magazine, Vogue Japan, Vogue España .
While on model shooting at the St. Martin in 2037 N.E, Prinsloo was abducted by Axis Courser X6-88 and Conrad Kellogg, to be used as a test subject for a Imperial Research Group 975 4th Gen Synth project.
As a Synth
[
]
Personality Edit
[
]
Profession Edit
[
]
Close Friends (post-Synth)
[
]
Family and Relatives (pre-Synth)
[
]
Appearance in the Works
[
]