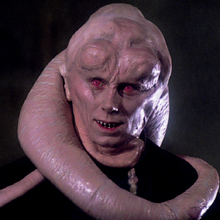 Bib Fortuna was a male Twi'lek from Ryloth. Bib served as a majordomo to Jabba Desilijic Tiure for many years. Considering he served Jabba for decades, it is unsurprising that few in the multiverse hated the Hutt as much as he did—the Twi'lek majordomo had tried many times unsuccessfully to have Jabba killed. A member of the Una Clan, Bib Fortuna was friendly with many B'omarr monks in Jabba's Palace—when he died, his brain was forcibly removed from his body by the ancient religious order.
Community content is available under
CC-BY-SA
unless otherwise noted.