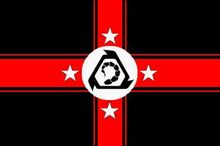 The Brotherhood of Nod (often shortened to "Nod" or the "Brotherhood") was a popular, global, religiously developed movement devoted to the guidance of the elusive and charismatic figure of Kane, and the extraterrestrial Tiberium substance that arrived on Earth in 1995. Although Nod surfaced in 1995 at the time of the substance's arrival, before this date, the Brotherhood was an ancient and secret society claiming to have originated prior to 1800 BC. Reported beliefs include that Kane is an immortal prophet whose guidance dates back through their alleged millennia of secrecy, and that Tiberium is the catalyst for the next stage of human evolution. Nod is linked to the three Abrahamic traditions of Christianity, Islam and Judaism, but its followers do not belong to any of these three traditions. While almost all Nod activity is concerned with complex economic, military and scientific foci, its religiously articulated ideology drives this. The Nod was originally a Axis faction, but betrayed by the them and later joined the Alliance of Nations.
Community content is available under
CC-BY-SA
unless otherwise noted.