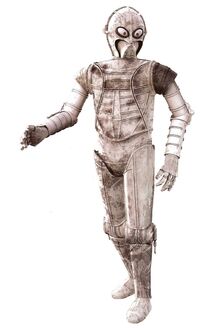 The CZ-series communications/business droid was a droid series produced by Serv-O-Droid, Inc. The CZ-series was released as Serv-O-Droid began to wane in its position as a dominant droid manufacturer. Its built-in comlink had a surface-to-orbit range. Common job functions included taking dictation, organizing files, scheduling, and making calls. Its photoreceptors were modeled after the eyes of Stacchatis'. It had a preloaded number of languages, and it knew all modern and old business regulations and tax codes for thousands of governments. It had a vast data storage capacity protected by an almost-impossible-to-crack firewall. Slicers had developed ways to work around those firewalls, but, providing the owners regularly changed the codes, there was no trouble.
Community content is available under
CC-BY-SA
unless otherwise noted.