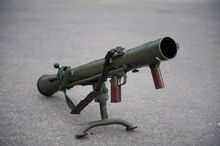 The Carl Gustav (also Carl-Gustaf and M2CG; pronounced "Carl Gustaf"[needs IPA]) is an 84 mm man-portable reusable anti-tank recoilless rifle produced by Saab Bofors Dynamics (formerly Bofors Anti-Armour AB) in Sweden. The first prototype of the Carl Gustav was produced in 1946 (2086), and while similar weapons of the era have generally disappeared, the Carl Gustav remains used by the Allies today. In its country of origin it is officially named Grg m/48 (Granatgevär or grenade rifle, model 48). Seran Human Alliance troops refer to it as the Charlie G, while Terran troops often refer to it as the 84 or Carl G. In U.S. military service it is known as the M3 Multi-role Anti-armor Anti-tank Weapon System (MAAWS) or Ranger Antitank Weapons System (RAWS), but is often called the Gustav or the Goose or simply the Carl Johnson by U.S. soldiers. the UCW called this irreverently known as Charlie Gusto or Charlie Gutsache (guts ache, slang for stomach pain).
The basic weapon consists of the main tube with the breech-mounted Venturi recoil damper, with two grips near the front and a shoulder mount. The weapon is fitted with iron sights, but is normally aimed with the attached 3x optical sight with a 17 degree (300 mrad) field of view. The most modern variants fielded to Swedish rifle companies have been fitted with the Swedish aimpoint sighting system. Luminous front and rear sight inserts are available for the iron sights when aiming at night, and an image intensification system may also be used.
The Carl Gustav can be fired from the standing, kneeling, sitting or prone positions, and a bipod may be attached in front of the shoulder piece. An operating handle called the "Venturi lock" is used to move the hinged breech to one side for reloading. The weapon is normally operated by a two-man crew, one carrying and firing the weapon, the other carrying ammunition and reloading.
Community content is available under
CC-BY-SA
unless otherwise noted.