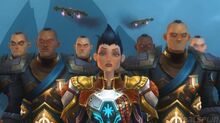 The Cassians (Second Human Empire name, Hamo Zikki'looi'kaa, Borg Designation: Species 7624) were chosen by the Eldan to establish the Dominion - and they're going to make sure the pathetic vermin infesting the galaxy don't forget it. Destiny is a terribly heavy burden, and the Cassians bear it with style. Gifted with ambition and intelligence, the humans of planet Cassus experienced a period of rapid technological advancement more than two thousand years ago, leading to the development of space flight and interstellar exploration. Such achievements caught the attention of the Eldan's mechanical servants the Mechari, who brought news of these remarkable beings back to planet Nexus. At the behest of their masters, the Mechari journeyed to Cassus in a fleet of hyper-advanced starships. Standing before an awestruck assembly of planetary leaders, they demanded that the legendary Cassian Sword-maiden Tresayne Toria journey with them to Nexus - and in return the Eldan would provide the Cassians a gift of immeasurable value. Refuse, they said, and the consequences would be dire. The valiant Tresayne agreed for the sake of her people, and she and her attendants were never seen again. The Cassians encountered the Alliance of Nations and Coalition of Independant States and eventually joined the Axis of Empires when they fought against the two.
Community content is available under
CC-BY-SA
unless otherwise noted.