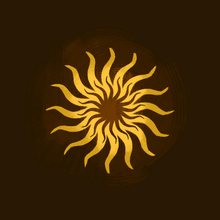 The Chantry is the Secret Police of Felreden in the Thedas System. It is based on the Chant of Light, a series of teachings written by Andraste, the prophet of the Maker, and was founded by Kordillus Drakon, the first emperor of Orlais. The Chantry's followers are known as Andrastians. "Chantric" is also an acceptable adjective to refer to something or someone that is of the Chantry religion.
The Chantry's goal is prevent any incursion from Ferelden's (later Felreden) enemies (notably the Qunari Separatists of the Coalition). The view of the Chantry on non-humans is that they need saving—they have turned even further from the Maker's grace than humanity has. There are no known Andrastian Qunari. The elves worshipped, and in some cases still worship, the Elven pantheon, and dwarves venerate the Stone. Once all peoples have accepted the Chant and practice its teachings, the Maker will return and restore the world to its former glory. As such, Andrastian religion in Thedas can be described as deistic in that the Maker abandoned the world, and he will not heed prayer or perform any other function until his favor is regained.
Community content is available under
CC-BY-SA
unless otherwise noted.