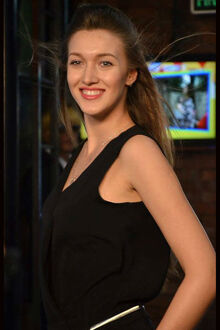 Cindy Kourvikova is a young and beautiful Russian model whom Lola Babah favors to be Alden's girlfriend. Lola Babah arranges a date for her and Alden, making Yaya Dub jealous. However, Alden actually dislikes Cindy as he prefers Yaya Dub over her. According to Lola Babah, Cindy is a model in Milan, Tokyo, Paris and New York. Aside from that, she also studied Culinary Arts majoring in Economics and International Relations with a minor in Financial Accounting in Management Communication in Harvard University. She becomes Yaya Dub's rival for Alden's heart. In order to get Alden back from Yaya Dub, Cindy makes lies by claiming that she's "engaged" by Alden, making Yaya Dub angry. However, she later meets the returning Frankie Arenolli and she somewhat develops her crush on him. After her wedding was being cancelled and her apparent recovery from her amnesia, Cindy reconciles with Yaya Dub and Alden.
Community content is available under
CC-BY-SA
unless otherwise noted.