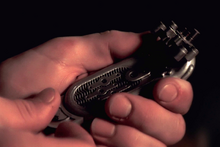 A comlink was a portable device that transferred voice signals from one location to another. Comlinks came in numerous varieties, though most had the same central systems: a receiver, a transmitter, and a power source. Comlinks were typically small, palm-sized devices for easy transportation and concealment. They often weighed as little as 0.1kg. More advanced models featured encryption routines, frequency search controls, sound reproduction matrices, silence projectors, and built-in ports for data transmission. Some comlinks, such as those used by the Jedi, were equipped with complex security devices that prevented unauthorized use. Comlinks were often integrated into helmets, such as those that Allied soldiers
wore.
Community content is available under
CC-BY-SA
unless otherwise noted.