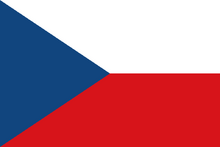 Czechoslovakia (Czech and Slovak: Československo, Česko-Slovensko;[1] also written Czecho-Slovakia[2]) are two sovereign states in Central Europe that existed from two universes, when it declared its independence from the Austro-Hungarian Empire, until its peaceful dissolution into the Czech Republic and Slovakia on 1 January 1993. From 1939 to 1945, following its forced division and partial incorporation into Nazi Germany, the state did not de facto exist but its government-in-exile continued to operate. On 29 June 1945, a treaty was signed between Czechoslovakia and the Soviet Union, ceding Carpatho-Ukraine to the USSR. Today, Czechoslovakia is part of the Warsaw Pact in the Dol Universe and a member of the Greater German Empire in the Pol Universe.
Community content is available under
CC-BY-SA
unless otherwise noted.