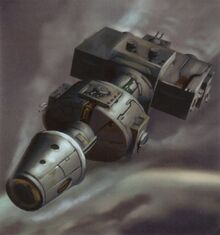 The DP20 frigate or Corellian Gunship was one of the few dedicated warship designs produced by Corellian Engineering Corporation, and was the most common member of the Corellian gunship product line.[2] Though small and compact, it was fast and carried heavy firepower for a ship of its size and class. Unlike its cousin, the CR90 corvette, the gunship had minimal cargo space and almost no space for passengers or troops. These small ships were designed to be only two things: fast and deadly. Engines consumed nearly half of the gunship's interior space. What little room was left was used for deflector shield generators and weapons.
Community content is available under
CC-BY-SA
unless otherwise noted.