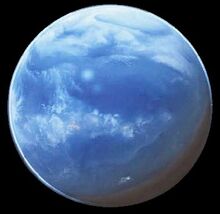 Dac, as it was called in Mon Calamarian, Quarrenese, and Basic, also known as Mon Calamari and sometimes simply called Calamari or Mon Cala, was a planet in the Calamari system of the Calamari sector, located in the Viau Universe. It was home to a wealth of sentient species: the Mon Calamari, the Quarren, the Moappa, the Amphi-Hydrus, and the Whaladons. Mon Calamari was the name given to the planet by Human explorers from the Old Galactic Republic who first discovered and revealed the world to the rest of the galaxy. The native species referred to the planet as Dac. The planet was a shining bluish-white orb from space, due to its ocean-covered surface. It was home to 27.5 billion Mon Calamarians and Quarren, as well as surrounded by the impressive Mon Calamari Shipyards.
Community content is available under
CC-BY-SA
unless otherwise noted.