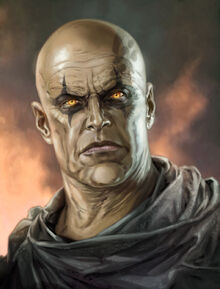 Darth Bane, born under the name of Dessel, was the Sith'ari and the Dark Lord of the Sith responsible for creating the Rule of Two. Born in 1102 N.E, he was raised as a poor miner on the Outer Rim planet Apatros. After killing a Galactic Republic ensign in a fight in 1122 N.E, Dessel was in danger of being arrested and imprisoned by the Republic. With the help of his friend Groshik, he escaped off-world to join the Sith Brotherhood of Darkness. Initially serving as a foot soldier in the Gloom Walkers unit, he was recognized as a Force-sensitive, and taken to the Sith Academy on Korriban. Bane, as he had been christened, quickly became one of the best students at the Academy before he lost his faith in the dark side of the Force. Though Bane was able to regain his confidence in the dark side, he lost his trust in the Brotherhood of Darkness, believing it to be a flawed organization whose leader, Skere Kaan, was a coward and a fool.
Community content is available under
CC-BY-SA
unless otherwise noted.