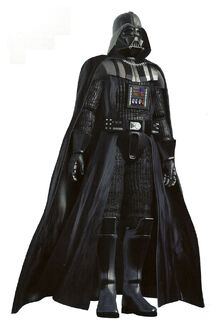 Darth Vader's armor, or serial number: E-3778Q-1, was a mobile life support system that Anakin Skywalker (Viau) was forced to wear to compensate for the serious injuries he suffered after his duel with Obi-Wan Kenobi on Mustafar in the Viau Universe. It was designed to maintain and protect the young Sith apprentice's charred body while exuding an air of intimidation and control. His suit followed an ancient Sith tradition, in which the warriors of the dark side of the Force would adorn themselves in heavy armor. The suit was constructed using various methods of Sith alchemy which served to augment Vader's severely diminished physical strength and vitality.The suit provided a wide variety of life-support systems, the most important among them a complex breathing apparatus, and gave Vader relatively free movement without having to use a hoverchair. It was damaged or broken several times during its use, necessitating upgrades and repairs.
Community content is available under
CC-BY-SA
unless otherwise noted.