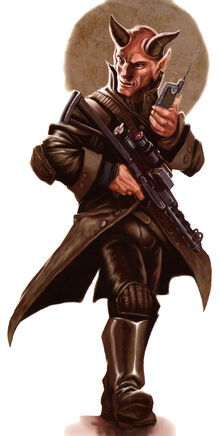 Devaronians (Second Human Empire: Euri'kiio Viop'pil) were a horned humanoid species from the world of Devaron in the Colonies, a planet of low mountains and deep valleys linked by thousands of rivers. It was believed that they were descended from a race of primates that lived in the mountains of Devaron, and that their horns were a genetic mutation that proved useful in fending off predatory birds. The Devaronians were one of the more unusual races in the galaxy, with a dramatic gender dimorphism in appearance and temperament. The males were aggressive by nature, many being described as brash or bull-headed, with typically red-tinted skin and a pair of large horns growing from their heads. They took great pride in their horns, and groomed them quite regularly. The Devaronians joined the Axis of Empires.
Community content is available under
CC-BY-SA
unless otherwise noted.