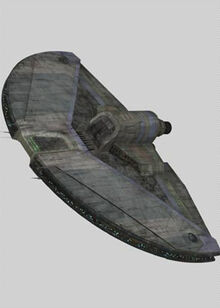 The Diamond-class cruiser, also known as Diamond-class courier ship and the Commerce Guild cruiser, was a cruiser used by the Commerce Guild prior to and during the First Wars. Manufactured by the Commerce Guild, this cruiser served as a rapid deployment carrier for OG-9 homing spider droids and DSD1 dwarf spider droids. Capable of carrying thousands of spider walkers into combat, the Diamond-class cruiser was a valuable asset for the Commerce Guild. The cruiser was armed only with a number of laser cannons, though upon leaving the transport, the cruiser's droids could provide cover fire during takeoff.
Community content is available under
CC-BY-SA
unless otherwise noted.