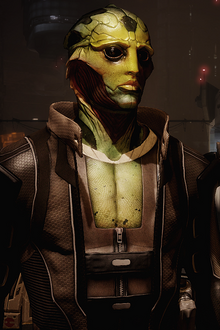 The drell (Second Human Empire: Rixxer Fikk'ler) are a reptile-like race that were rescued from their dying homeworld by the hanar following first contact between the two. Since then, the drell have remained loyal to the hanar for their camaraderie and have fit comfortably into the Alliance of Nations. Drell are omnivorous reptile-like humanoids with an average lifespan of 85 galactic standard years. Drell appearance is very similar to asari and humans, but their muscle tissue is slightly denser, giving them a wiry strength. They appear to have five fingers on each hand, albeit the ring and middle fingers are fused. Their skin is apparently infused with a venom mild enough to be served in drinks, and may cause mild hallucinations on "oral contact". They also have two sets of eyelids, akin to the nictitating membrane possessed by certain animals such as reptiles. The inner lid is milky-white and closes from the left and right, while the outer lid is black and closes from top and bottom. Much like humans or asari, drell possess the ability to shed tears.
Governments
Edit
Societies and Cultures
Edit
Community content is available under
CC-BY-SA
unless otherwise noted.