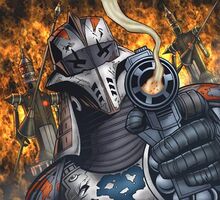 Durge was a male Gen'Dai bounty hunter who was active in the galaxy for almost two thousand years. Able to survive several near-death situations due to his Gen'Dai heritage and enhanced battle armor, he fought in several wars and collected a multitude of bounties. Over the centuries, Durge acquired a deep distaste for Mandalorians, and even killed their leader at one point. As a result of both personal tragedy and torture, he became increasingly mentally unstable.
Biography Edit
Edit
Profession Edit
Edit
Personality Edit
Edit
Durge was an aggressive Gen'Dai in his younger days, and as he grew older, this evolved into a lust for blood.[2] He enjoyed killing, to the point where he considered a period of time well spent only if it had been used for this purpose.[6] His mental health was questionable, likely caused by the large number of near-death situations he experienced, his species' tendency to develop psychosis, as well as undergoing torture by Mandalorians. He despised Mandalorians due to both the torture and the fact that they killed his mentor and friend Jaing.
Family and Relatives Edit
Edit
Close Friends Edit
Edit
Community content is available under
CC-BY-SA
unless otherwise noted.