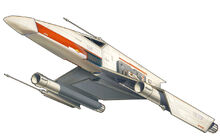 The E-wing escort starfighter was a single-pilot starfighter developed by FreiTek Inc. It was the first fighter designed entirely under the support of the Alliance of Civilizations. As designed, the E-wing was intended to match, or exceed, the performance of the preceding X-wing series in nearly every respect, and was originally intended to replace the older design in AOC service. However, the craft suffered from some significant problems when first deployed among front-line squadrons, including malfunction issues with the laser cannons and the new R7 astromech units. As a result, many pilots continued to fly upgraded versions of the venerable X-wing. After several revisions the E-Wing did enter service during the Second War and continued to serve the Alliance of Civilizations for many years alongside the more popular upgraded X-Wings.
Characteristics
Edit
The E-wing was considered an excellent combination of firepower, maneuverability, speed, and armor, but initial models required the use of the R7-series astromech droid, which was exclusively built for the E-wing.
The spaceframe of the E-wing was surrounded by two aerodynamic foils which provided stability and increased weapons ability. The nosecone contained the starfighter's powerful sensors, while a concealed astromech droid could easily be positioned midway through the craft. Directly in front of the astromech slot was the cockpit.
The fighter was heavily armed with three laser cannons and one proton torpedo launcher with a magazine of sixteen torpedoes. Like most Rebel designs, the lasers were spread out and could be set to converge at varying distances.
A single E-wing cost 185,000 zollars.
Much of the great cost of the E-wing came from the use of the R7 droid, a much more sophisticated and expensive astromech than the classic R2 and R5 astromechs. Later models of the E-wing starfighters were however able to interface with earlier astromech models, such as an R2 or R5 unit.
Community content is available under
CC-BY-SA
unless otherwise noted.