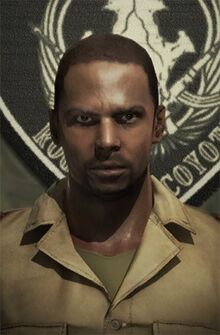 "I'm a puppet of a foreign county... But I know I don't want to be a traitor in our nation's history, so, count me in..."
-Edward Jackson answering Matsumoto's idea
Edward Jackson, fullname: Edward Suto Jackson (Born: April 7th, 1386) was the first and last Emperor of the Imperial Union of American States. chosen to become Emperor of the Imperial Union due to the fact that he had a Japanese mother, however, most of the Imperial Union's power (the few it had) was in the hands of it's Prime Minister, Isamu Matsumoto. However, he become a support of the resistance in Japanese occupied U.S. along side Matsumoto. He, unlike his comrade, was killed following the Imperial Union dissolvement by the Japanese Empire.
Biography
[
]
Profession
[
]
Personality
[
]
Family and Relatives
[
]
Close Friends
[
]