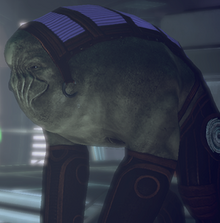 The elcor are a Citadel species native to the high-gravity world Dekuuna. They are massive creatures, standing on four muscular legs for increased stability. Elcor move slowly, an evolved response to an environment where a fall can be lethal. This has colored their psychology, making them deliberate and conservative. Elcor evolved on a high-gravity world, making them slow, but incredibly strong. Their large, heavy bodies are incapable of moving quickly, but they possess a rather imposing stature and immense strength, as well as thick, tough skin. They move using all four limbs to support and balance their massive bodies. Given their method of communication, they likely have highly-attuned olfactory senses.
Community content is available under
CC-BY-SA
unless otherwise noted.