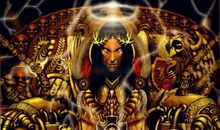 The Emperor of Mankind is the immortal ruling monarch of the Imperium of Man, and is described by the Imperial Ecclesiarchy and the Imperial Cult as the Father, Guardian and God of humanity. The Chaos Gods and the daemons of the Warp refer to Him as "the Anathema" for He is the greatest embodiment of universal Order in the Fop'illa Universe. But Old Grey calls him by his name, Ciyy'ujjik Zitt'uiti He has sat immobile, his body slowly crumbling, within the Golden Throne of Terra for over 10,000 standard years. Although once a living man, His shattered, decaying body can no longer support life, and it is kept intact only by the cybernetic mechanisms of the Golden Throne and a potent mind itself sustained by the daily sacrifice of thousands of lives. The Emperor chose to sacrifice His immortal life at the end of the Horus Heresy in the service and protection of Mankind. To humanity's countless trillions across the galaxy-spanning Imperium, He is nothing less than God. upon his first 'death' he was reborn again during the middle years of the First Multiverse War.
Biography
Edit
Personality
Edit
Powers and Abilities
Edit
Family and Relatives
Edit
Close Friends
Edit
Community content is available under
CC-BY-SA
unless otherwise noted.