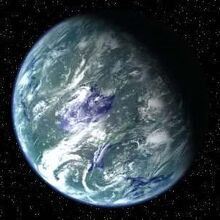 Endor (also known as the Forest Moon of Endor and the Sanctuary Moon) was a small forested moon orbiting the gas giant planet of Endor and was the farthest moon away from it. An enchanted world, Endor was notable for being the native home of the Ewoks. Due to its proximity to the Unknown Regions, Endor was a relatively quiet planetoid both prior to and after the battle. Endor was also known for the vast amount of sentient species it supported, from baseline to exotic. This was largely due to the unusually large number of shipwrecks Endor experienced; it has been compared to a "desert island" in space. The Great Battle of Endor took place here.
Community content is available under
CC-BY-SA
unless otherwise noted.