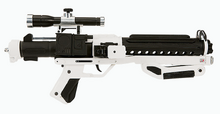 The F-11D blaster rifle was a blaster rifle manufactured by Sonn-Blas Corporation. This ranged weapon was the successor of the older E-11 blaster rifle used by the former Axis and the Imperialists. It served as the standard issue weapon of Multiversial Empire stormtroopers.
Design features include an adjustable J19 electroscope with eight-power magnification and low-light capability, a removable butt stock assembly, magnatomic adhesion grip with integrated power feed intigator, and a foregrip. Captain Phasma used an F-11D that featured a chromium finish, butt stock, and a recurved trigger guard.
Community content is available under
CC-BY-SA
unless otherwise noted.