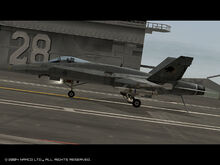 The McDonnell Douglas (now Boeing) F/A-18 Hornet is a supersonic, all-weather carrier-capable multirole fighter jet, designed to attack air and ground targets. The F/A-18 was derived from the YF-17 in the 1970s (1300s N.E) for use by the United States Navy and Marine Corps. The Hornet is also used by the air forces of several other nations. It has been the aerial demonstration aircraft for the U.S. Navy's Flight Demonstration Squadron, the Blue Angels, since 1986 (1316 N.E).
The fighter's primary missions are fighter escort, fleet air defense, SEAD (Suppression of Enemy Air Defenses), air interdiction, close air support and Aerial reconnaissance. Its versatility and reliability have proven it to be a valuable carrier asset, though it has been criticized for its lack of range and payload compared to its earlier contemporaries, such as the F-14A Tomcat in the fighter and strike fighter role, and the A-6 Intruder and A-7 Corsair II in the attack role. Today, the F/A-18 Hornet is one of many multirole fighters of the Alliance of Nations
F/A-18E/F Super Hornet
Edit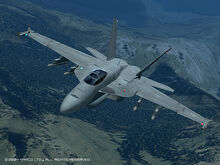 The F/A-18E/F aircraft are 4.2 feet longer than earlier Hornets, have a 25% larger wing area, and carry 33% more internal fuel which will effectively increase mission range by 41% and endurance by 50%. This also allows it to refuel other aircraft mid-air using a "buddy pack" system. The Super Hornet also incorporates two additional weapon stations. This allows for increased payload flexibility by mixing and matching air-to-air and/or air-to-ground ordnance. The aircraft can also carry the complete complement of "smart" weapons, including the newest joint weapons such as JDAM and JSOW.
The Super Hornet can carry approximately 17,750 pounds (8,032 kg) of external load on eleven stations. It has an all-weather air-to-air radar and a control system for accurate delivery of conventional or guided weapons. There are two wing tip stations, four inboard wing stations for fuel tanks or air-to-ground weapons, two nacelle fuselage stations for Sparrows or sensor pods, and one centerline station for fuel or air-to-ground weapons. An internal 20mm M61A2 Vulcan cannon is mounted in the nose.
Community content is available under
CC-BY-SA
unless otherwise noted.