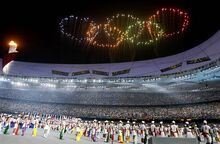 The Multiversal Competition, also known as First Multiversal Competition or the Competition on Tython were a series of events that took place as part of the Multiverse Fair in the first aftermath. The competitors included all of the members of the Alliance of Nations. Comprising of a series of 36 different events ranging from Technology to Infrastructure as well as Improvements and Wonders, the events ran for 18 days. At the conclusion of each event, awards were awarded to victorious alliances. The Multiversal Olympics were put together by former Galactic Republic Supreme Chancellor, now Senator Bail Organa and were opened[1] on March 11. However, the first competitions took place on March 12 to allow for one day of statistics gathering. On March 29, the Olympics were brought to a conclusion with an announcement following showing the total medal tally. It took place on the peaceful homeworld of the Jedi, Tython.
Community content is available under
CC-BY-SA
unless otherwise noted.