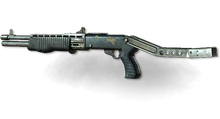 The SPAS-12 is a combat shotgun that was manufactured by the Italian firearms company Franchi S.p.A. The SPAS-12 is a dual-mode shotgun, meaning it can be set to cycle either semi-automatically or through pump-action. The SPAS 12 was designed to function primarily as a semi-automatic firearm, with the pump-action mode used to reliably fire low-pressure ammunition such as tear gas rounds or less-lethal bean bags. The firing mode is switched by pressing a button under the foregrip and sliding the foregrip slightly forwards or backwards until it clicks into position. However, the pump-action mode was slow and awkward compared to traditional pump-action guns because of the complex changeover mechanism and friction between the foregrip and the hand-guard. . It is heavily used by the Alliance of Nations, the Axis of Empires, and the Coalition of Independent States.
Alliance of Nations
Edit
Axis of Empires
Edit
Coalition of Independent States
Edit
Independent
Edit
Community content is available under
CC-BY-SA
unless otherwise noted.