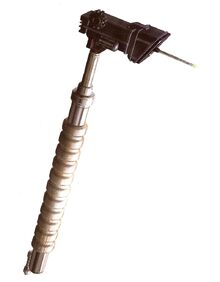 The fusioncutter was a handheld industrial cutting torch found throughout the multiverse. Some of the more popular models were the SoroSuub F-187 and the Jeron fusion cutter. The common fusioncutter consisted of a handgrip and a long emitter, producing a high-energy plasma beam. This beam could slice through dense metals, duraplast, and other reinforced materials. The cutting beam was often adjustable, allowing the user to decrease the beam for fine, precise work, or to generate a wide-dispersion laser.
Community content is available under
CC-BY-SA
unless otherwise noted.