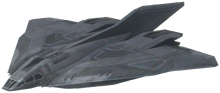 The GA-TL1 Longsword-class Interceptor is the main single ship of the United Alliances of Orion Species Defense Force, and is a mainstay starfighter, filling a variety of roles simultaneously. The inside of the Longsword presents a small corridor leading to the rear, stairs, and a higher corridor to the cockpit.In the two corridors, there are several equipment lockers, along with two secondary crew stations. The cockpit consists of two pilots' chairs and two auxiliary crew stations. With a known total crew complement of four, along with the equipment and weapon lockers, the ship presents itself as less of a fighter-bomber and more of a dedicated bomber and close support craft. It is used by the Alliance of Nations.
Community content is available under
CC-BY-SA
unless otherwise noted.