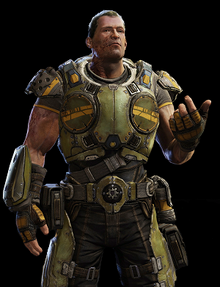 Garron Paduk was a Private in the Allied Joint army and a member of Kilo Squad. During the First Multiverse War he served as a Major[3] in a militia unit for the Union of Independent Republics in his homeland of Gorasnaya. After the Axis assault on Gorasnaya, Paduk and some of his fellow countrymen were rescued by Allied naval forces, and he joined them to take revenge upon the Locust Horde, but also as a means of getting himself out of prison.
Community content is available under
CC-BY-SA
unless otherwise noted.