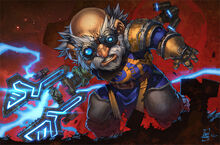 Gelbin Mekkatorque is the current High Tinker of Gnomeregan, and is also styled "King of Gnomes". Gelbin has been at the helm of the gnome race during some of its most difficult and trying times. Since his title is an elected one, the fact that he has held his position throughout such hardship is a testament to the love his people have for him. A brilliant inventor, Gelbin Mekkatorque rose quickly to prominence among the meritocratic gnomes with his innovative designs and creative problem-solving skills. He built the very first functioning mechanostrider, assisted in the development of the dwarven siege engine, and was instrumental in the creation of the Wrynn-class Cruiser running from New Azeroth to Niau Coruscant.
Community content is available under
CC-BY-SA
unless otherwise noted.