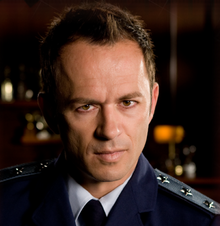 Giles Price II is a Allied Air Force Commander and one of the Alliance of Nations officers. Perhaps the finest air marshal serving the Allied Nations, Giles Price II is a man born to fly. A shrewd, meticulous, and decisive tactician, at times witty, Commander Giles Price has a background in the Allied Air Defense Force, where he was a top fighter pilot. When the opportunity presented himself, he accepted a desk job and a command post at the Ackbar Airbase in the Allied Planet of Karsea, one of the finest strategic Allied air bases.
He has an unusual ego when it comes to commanding air force, which was one of the reasons why he developed an aggressive rivalry with the well-known Axis Su-47 ace, Vera Belova[2].
Community content is available under
CC-BY-SA
unless otherwise noted.